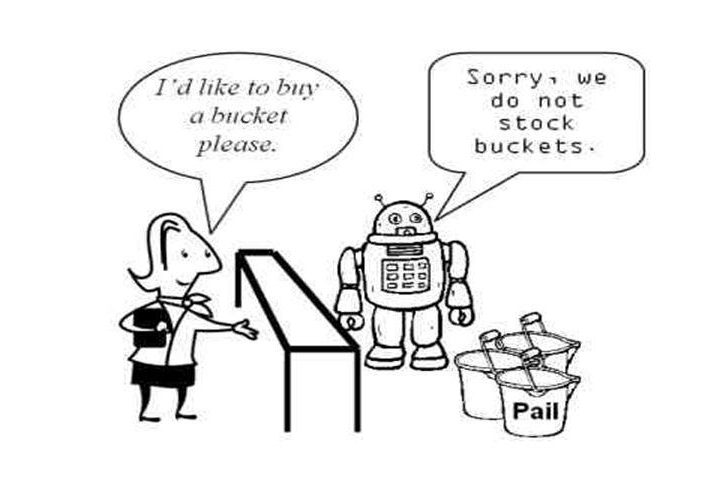 When I first started in my current career, I was called an information architect. IA looks at cultural, linguistic, and computer-user contextual (in addition to other user) requirements in order to build a logical structure and provide the right content to the user at the right time. Today, a lot of the the stuff that I did as an information architect (IA) falls into the bailiwick of content strategy. Here, I am highlighting my work in taxonomy, information architecture, and content strategy as a UX designer.
I've done a lot of work on search/browse/filter functionality. Here is a little video showing the filter logic for the Mucinex Professional website, done using MS Excel. A health care professional would need to find a product based on ingredients. In this example, the video shows how the filters would allow the HCP to select two ingredients and choose "for children" to narrow down the products from 32 to one.
A similar project was the Freshlooks colored contacts website, for which I worked out the logic for the product filters initially with am excel spreadsheet: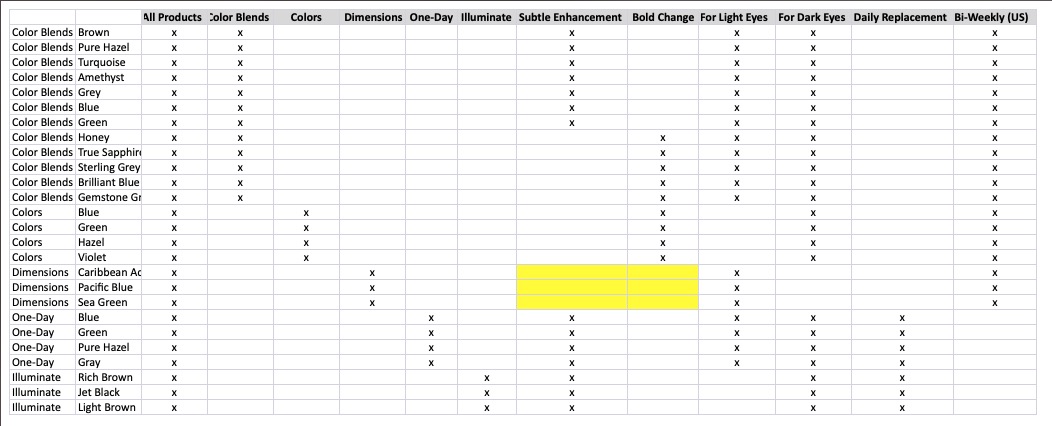 The visual design of the product page ended up introducing some challenges in development, so I was asked to do some more work on the logic: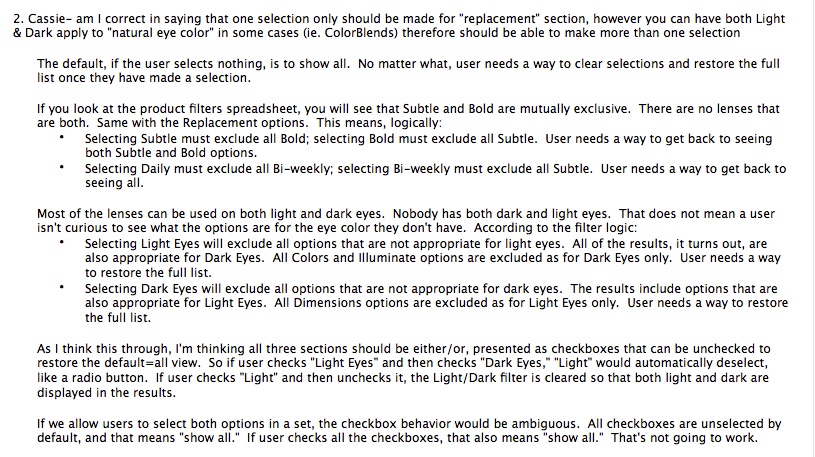 Finally, I did formal use cases to ensure the logic was clear:
Another thing I've done a lot of is organizing legacy content and identifying content gaps for a new design. This video shows how I've mapped content to specific areas of an interactive makeup tool for Maybelline.
A really big taxonomy project was part of the overhaul of Microsoft's Information Worker Solutions Partners website. The site used a controlled vocabulary / taxonomy to organize content within its Content Management System (CMS), automate publication and distribution of content, and enhance search functionality. The CMS was "Arsenal," and the search engine and content distribution engine was "IWCE," provided by Calanza. As part of an overall redesign, I audited the existing Arsenal and IWCE vocabularies, mapped them together, and identified gaps, then worked with Microsoft's taxonomy team to address the gaps. What made all this even more interesting was that Microsoft was in the process of introducing a new taxonomy tool, called "Taxman," that would be rolled out after the launch of the overhauled Information Worker website. That meant I also mapped the Arsenal – IWCE vocabulary to the new Taxman taxonomy. Here's the spreadsheet I used for that last part: